Diet and weight loss advice often repeats the same theme like a sacred mantra: take in fewer calories than you burn through exercise, and watch excess weight melt away. Many misinterpret this advice as, "eat less (or nothing) to maximize calories burned through exercise, and watch the weight fall off." While the fundamental idea behind weight loss is there, this misunderstanding about how to maximize calories burned and weight lost can have a profound impact on your health. Nutrition is a very important part of making your fitness and weight goals successful; more important than avoiding food, is knowing how much and what kinds of nutrients will best fuel your body and workouts.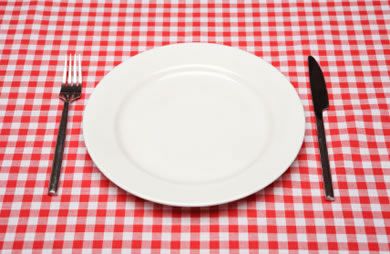 Undereating while attempting to lose weight, and especially undereating while engaged
in a high-intensity exercise regimen, can negatively impact your efforts to get in shape and shed
unwanted pounds. It can also have a serious effect on your body's immune system and internal organs. It is important to include the right nutrition, through food and nutritional supplements, to achieve your health goals.
The Relationship Between Food and Health
Food provides the body with fuel to continue normal, vital operations. When you provide too much fuel, your body often opts to store it in the form of fat deposits, so the body has reserves in case of starvation. Knowing this, it is easy to infer what occurs when the body has too little fuel. It draws upon the reserves of fat stored against times when not enough food is consumed. This is the basic principle of dieting.
Yet the body requires more than fat stores to fuel itself efficiently. The human body needs a variety of nutrients to function at peak efficiency, including carbohydrates, proteins, and fats. By itself, stored fat cannot give the body what it needs to stay healthy. This means healthy weight loss requires a dietary balance. Enough food, and enough variety of food, must come in to allow the body to function at proper levels. Yet a dieter must also be careful to cut enough calories, so the body will draw some from the fat reserves and burn excess pounds.
Many unwisely assume that working out without eating will give them the edge they need to maximize the amount of fat burned. Undereating—or neglecting eating altogether—actually starves your muscles of glycogen; the result is that your muscles exhaust themselves much more quickly than if you were feeding them with the proper nutrition. Even grabbing something as small as a shake or protein bar before you workout will give your body a helpful boost. And, since you deplete glycogen while you work out, it is also important to follow exercise with a post-workout that will feed your muscles, aiding not only in muscle growth, but also in recovery.
Some great workout supplements for post-workout recovery include:
And don't forget protein (Intek and TriPharm have some great ones) to help with lean muscle growth and repair!
Food for Thought: Undereating and Exercise
Exercise puts strain on the body in order to make it stronger. As the body exerts, it burns through the fuel you give it through eating. Inadequate nutrition can mean an otherwise healthy exercise regimen will do harm to your body. This is doubly true in warm climates like Jacksonville's, where heat exhaustion can strike those who haven't given their body enough fuel and hydration.
According to some professionals, sufficient and balanced nutrition is the most important piece of the exercise results triumvirate. While sufficient rest and effective workouts contribute to the picture, good nutrition provides the foundation on which healthy people build. Without it, the body can lose strength and muscle, and, in a counterintuitive reaction, can actually gain weight. If your caloric intake drops too low, your body will actually engage a protective starvation mode, during which it holds fast to the fat stored.
Meal Plans Made Easy
Eating enough of the proper nutrition can be the most difficult part of getting healthy, but fitting in the calories necessary to meet your energy and recuperation needs will keep you from reaching a fitness plateau. For an easy way to plan your weekly meals, try Jax Nutrition's customized meal plans. Personal coaching and progress tracking can give you the extra encouragement you need to succeed!