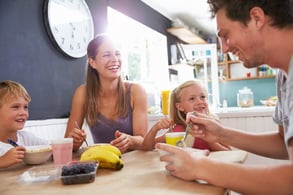 Ah, summertime. Summer entertaining, traveling, and summer nights…. who doesn't love summer? Summer is a great time of year, but summer often leads to unhealthy eating, sleeping less, and fewer workouts. Once school time rolls around we are all craving more structure and routine.
It's important to get your kiddos back into a routine, but it can be even more crucial for you to get back into a routine. Planning ahead and organization is key to hectic weekdays. From sleep schedules, introducing a new workout routine, to meal planning, we wanted to compile a list of routines to introduce this school year that will help your mind, body, soul... and sanity.
The more you plan and schedule the more likely you will follow through with your new routine.
Plan Ahead
Meal Planning: Time is never on your side during a busy weekday, and planning a meal for the entire family adds to the struggle of making time to plan and cook dinner every night. We recommend dedicating the weekend to planning meals for each week night, along with grocery shopping. If you still have energy, we also recommend prepping as much of the meals as possible (cutting up vegetables, pre-cooking meat, etc). This is also a great time to meal plan your lunches and snacks. Avoid the vending machines by always having a protein bar or shake (Intek protein powder is one of our top selling products!)
Below are a few recommended snacks:
Stack D Pancakes: A convenient and easy to make pancake mix that is 25 grams of protein, low in calories, made with 100% organic ingredients, NO artificial ingredients, contain healthy whole grain carbs, and most importantly tastes great
Intek Protein Smoothie: Any of our Intek's Evolution Protein products (Vanilla, Chocolate, Strawberry) will make a nutritional on the go alternative to breakfast.
GBatter Spread: G Butter is a high protein & low calorie spread made with nuts. Each flavor is made with its own unique nut and high quality ingredients. Spread GBatter onto toast, or put it in the microwave for a warm treat!
BestBarEver: Instead of grabbing for a candy bar or bag of chips, these bars will provide are the perfect on the go, tasty, and filling snack. Another bonus, the flavors crazy good.
Barleans Superfruit Greens Powder & Chocolate Greens Powder: These powdered greens formulas are easy to add into your daily diet, mix them into smoothies, shakes, juice, milk, yogurt or water. They are fundamental for energy, detoxification, fighting free-radical damage, and providing loads of nature's best antioxidants.
Workout Regimens
Make a workout schedule, and stick to it! Getting into a workout routine helps you stay on track and keeps you feeling motivated. No time? Set your alarm clock one hour earlier, or plan a workout during your lunch break. At the beginning of each week, schedule your workouts for the entire week. It's important to get the most out of your workout. We recommend taking a pre-workout which will properly fuel your body during your working out.
Introduce Better Sleep Patterns
Benefits of sleep: Sleep routine is often the biggest challenge and hardest habit for for the kiddos to break. Sleep schedules have formed new patterns during the summer, and these new patterns aren't scheduled with early mornings. This isn't just for the kiddos though. Giving yourself a new sleep pattern is just as important as giving your children one. Sleep deprivation makes you crave foods, changes your fat cells, and ultimately controls your diet. Within four days of sleep deprivation, your body's ability to properly use insulin becomes completely disrupted. Your insulin controls your fat cells in which removes fatty acids and lipids from the bloodstream (preventing them from staying there). Therefore when your insulin isn't functioning well, you store fat in the wrong places. Where there are fat cells… there is leptin. Leptin is found in your fat cells and leptin is hormone in which in controlled by hunger. The less leptin produced, the more your stomach feels empty.
Getting to sleep: The parents are often much more exhausted than the kiddos are at the end of a long day, but there are a few recommendations we have that benefit both the kids and parents. Summer's are filled with spontaneous nightly visits to the local ice cream shop… save this for only special nights such as birthdays or weekends only. Cutting out caffeine and sugar late in the afternoon and nights will help your diet and get the kids to bed earlier. Once the kids are in bed, we recommend grabbing a healthy protein snack such as a Intek protein shake. Have a sweet tooth at night? No worries, we have several sweet products without the guilt.
Be Prepared
There is always going to be the day where nothing goes as planned, you're skipping lunch and running late to pick up the kids from school. These are the times in which it's most challenging for your diet. Be prepared for these days. Stock up on protein bars, shakes, and healthy snacks for yourself. Getting into a new routine can always be challenging, but very rewarding.
Looking for guidance in properly fueling your new workout schedule? Click HERE