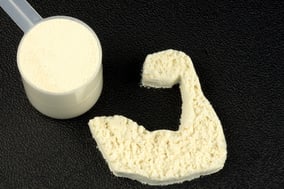 Although people usually associate protein with mass and muscle gain, it is really a universal fitness necessity. Protein can assist with shedding pounds by fueling fat burning and curbing appetites. Many people seek nutritional advice once something has already gone wrong: they feel fatigued, their muscles are repairing slowly, they aren't building the lean muscle they could be, etc. Jax Nutrition aims to prevent workout dead-ends. By helping you be a more discerning consumer and by providing you with the best quality protein supplements on the market, Jax Nutrition will help you get the results you seek.
It seems like no matter where you go, you can get a protein supplement these days. Unfortunately, when you buy from a "bargain" vendor that is not a specialist, the protein will probably be of sub-par quality. Low-quality protein supplements can have detrimental effects on your workouts. They could contain unnecessary added fillers like corn, which would dramatically decrease the effectiveness of your protein. Conversely, the supplements could lack helpful ingredients. For instance, many protein powders leave you feeling gastrointestinal discomfort or bloating. Fortunately, the experts at Jax Nutrition have stocked our shelves with Intek Protein Evolution, which contains probiotics that prevent the bloat and indigestion that typically accompanies a lower-quality protein. Additionally, many supplements use soy. Fermented soy is good for you, but increased intake of unfermented soy, which is what most companies that don't specialize in workout supplements use, can cause hormone imbalances.
A high-quality protein supplement is the best option to maximize the benefits of protein. It has been shown that high-quality protein can benefit cardiovascular health by lowering triglyceride and cholesterol levels. As previously noted, protein also helps you lose weight by satisfying calories, helping you feel full longer, thus curbing cravings; it also fuels fat burning while preserving lean calorie-burning muscle. Furthermore, it takes more energy for your body to process proteins than it does to burn carbs, so, even when resting, it burns more calories than other sources would. Protein supplements also help with:
Enhancing immune function

Increasing lean body mass

Repairing and building muscle
Discerning between good and bad proteins can be difficult, but to save you time, your friends at Jax Nutrition have compiled a list of some of the characteristics to pay attention to when selecting your protein supplements. What makes a protein good is its nutrient base, how it was raised and/or farmed, its omega-3 value, and its saturated fat content.
When choosing a protein powder, avoid supplements that:
Are not organic

Contain unfermented soy

Add artificial sweeteners

Do not contain helpful ingredients like BCAAs, enzymes, and probiotics
Big box stores and grocery stores may carry protein for cheaper, but, in this case, the old adage "You get what you pay for" holds true; their protein could not be the high-quality variety that your body needs to stay healthy and perform at your peak. Our nutrition experts highly recommend -
Intek

protein: Their protein is sourced sustainably. They are members of the US Organic Trade association and carry a US EPA license. Intek guarantees label accuracy—a rarity in an industry notorious for mislabeling or overstating protein percentages. Their protein uses stevia, a plant-based sweetener, rather than artificial sweeteners. Intek also utilizes enzymes and probiotics to ensure that you have zero gastrointestinal discomfort. Instead of single-source, Intek's protein contains 5 different types that metabolize at different rates, meaning that your body can break it down over a much longer period of time than its low-quality counterparts; this ensures that you get the full range of benefits from the supplement over an extended period of time

Dr. Mercola

protein: For vegans (or for those simply looking to vary their protein sources), Jax Nutrition carries a 100% plant-based protein. Similar to Intek's products, Dr. Mercola vegan protein supplements contain a blend of 5 different types of protein (pea, hemp, chia, potato, chlorella) and do not use artificial sweeteners. These proteins are gluten free and have added enzymes and fiber, meaning that they are easily processed and tolerated by most allergies. Get more Omega-3s and fiber in your diet with your protein and support heart, brain, gastrointestinal,

and

immune function as well as build and maintain healthy muscle mass all in one!
Prevent dead-ends in your workouts. Contact Jax Nutrition or visit us for expert nutritional advice and high-quality protein today!