Our customer's have a lot of questions when it comes to getting healthy, and staying healthy. So we've compiled a list of our top questions and have answered them in this blog post. We hope this helps you stay on track, and motived!
Need help with meal planning for the day? Take a quick peek at our meal plan summary ... Interested? Stop by either of our locations for details.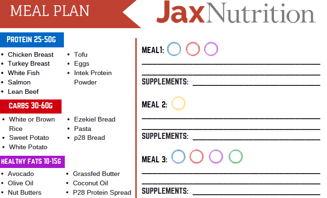 Take in as many grams of protein as you would like to weigh. For example, if you want to weigh 120 pounds then you should take in 120 grams of protein per day. The best way to do this is to split the amount into 6 meals so you are constantly running your metabolism. If you take 120 grams and divide it by 6 meals that leaves 20 grams of protein per meal.

You want to eat every 2-3 hours. Every time you eat, you want to make sure you are eating protein. Keep in mind that peanut butter is not considered protein, more of a good fat!

If you are working out in the morning then the last 8 hours that you are awake, do not eat carbs and sugars. If you eat them in that time frame, then you will store them as fat.
To learn more tips, stop by any of our locations for a free nutritional summary sheet.