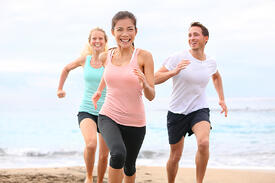 Most people would probably define dieting as "eating restricting food in order to lose weight." These people wouldn't be wrong, but that's not the entire story either. Here are some ways that dieting can lead to a healthy lifestyle in Jacksonville, FL.
Portion Control – The first thing a person learns when dieting is portion control. You can't continue to "stuff your face" day after day and expect to shed those pounds. Successful dieters not only eat less at each meal than they did before they started their diet, they also pay attention to what they are eating and how much including:
Only eating when hungry

Stopping eating once hunger is satisfied

Watching the intake of salt, sugar and fat
Write it Down – Part of paying attention to what you are eating while on a diet is writing down everything you eat. If a person is dedicated enough to write down all that he or she consumes, the act of writing down every food item will actually keep that person from cheating or at least force the individual to be honest with himself about his mistakes.
Eating Better – Most dieters quickly learn that they must eat "better" in order to make much progress in their diet. Although cutting back on junk food is a good start, dieters are often left feeling hungry when faced with smaller portions of high-calorie, low protein junk food. Eating better allows dieters to feel full from smaller portions without sacrificing the calorie intake. This is accomplished by eating more fruits and vegetables, whole grains, lean protein and less processed sugars and grains like those from white bread. Part of a healthy lifestyle includes:
Eating only small amounts of unhealthy fats and more healthy fats.

Eating a variety of healthy foods in order to reap the benefits of a variety of nutrients.

Choosing foods that are low in processed sugars and carbs.
Small Meals – Another common practice among dieters that can lead to a healthy lifestyle is the practice of eating smaller meals more often. Numerous small meals help a dieter keep from getting hungry throughout the day but also provide enough "fuel" to keep the engine of the body running properly. Small meals also make for fewer opportunities for overeating and are easier on your body than two or three big meals per day.
Exercise – What would dieting be without exercise? Just cutting calorie intake alone won't be effective enough to make the pounds fall away – a person really needs to add exercise to his or her weight loss system. Getting moderate to heavy exercise on a regular basis is one of the best ways to improve a weight loss system. Of course getting regular exercise is also good for helping alleviate stress, as well as fighting heart disease, diabetes and some forms of cancer. Remember, exercise should be fun and interesting. Try new things and keep changing out the program. Respect your body - don't forget to stretch out before you begin your exercise sessions and utilize a proper cool down process afterwards.
Support From Your Friends – Many sources tells us that weight loss works best when we have the support of our "network" of friends or family. Whatever you do, don't hide your weight loss regime from family or friends; ask them to participate as your supporter.
These individuals may choose to jump right in and join you in your weight loss program, support you emotionally via emails and social media, help with your healthy shopping or cooking, or even join you during your exercise sessions. Your doctor, nurse or dietitian would also make a great supporter as well as an excellent source of information for any questions you might have. No matter the form of support, you will be more successful in your overall weight loss program if you know that you are not "doing it alone" and there is someone that you can talk to about the program.
Improved Health – Those individuals who change their eating habits overall, not just for a few weeks, find that their health will begin to improve as their eating habits improve. Eating healthy ultimately helps protect your body from illness. When you eat right, your body gets the right balance of nutrients, vitamins and minerals. You'll feel better and have more energy, plus your body will be better able to fight stress. You'll also be in better shape to help prevent high blood pressure, diabetes, heart disease and possibly even cancer.
Although ordinary dieting doesn't make one think of a healthy lifestyle, it is actually the kick-off to better eating habits, better mental health, getting more exercise, stress relief and fighting off illness. Visit Jax Sports Nutrition at our Atlantic Blvd or Tapestry Park location to get started on a healthy diet and lifestyle plan.