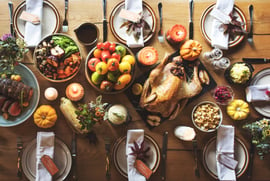 From a healthier heart to more muscle mass to a thinner waistline, there's no shortage of benefits to a protein-rich diet. Protein consumption is especially important to maintain during Thanksgiving, when pie, mashed potatoes, and stuffing often crowd out healthier food options. It is always possible to avoid temptation and stay healthy, but you are unlikely to succeed unless you plan ahead. The following tips will help you prepare for the holidays and maintain a high-protein diet no matter the season:
Breakfast Benefits
Many people skip breakfast on Thanksgiving, hoping to leave more room for food at the main feast. Not only is this a generally unhealthy strategy—it's important to balance your meals throughout the day—but it also eliminates a prime opportunity to eat protein-rich foods. Breakfast is the perfect time to eat high-protein dishes like eggs, meat, or our Stack'd Protein Pancakes (stop by either location for this great protein pancake mix!). If you don't want to fill up for later meals, try drinking a protein shake Getting an early jump on protein intake has been shown to have beneficial effects on the hormones that control appetite and cravings. What this means: having a protein shake first thing in the morning will ensure more control over your appetite—so you won't eat too much—and a reduction in cravings-related brain activity—so you won't go straight for stuffing and pie, but rather indulge in the healthier options, such as the lean turkey.
Meat Management
If you're an omnivore, you may assume that meat is a foolproof way to get more protein, but not all meats are created equal. Poultry, for example, is more protein-rich than beef or pork, which is good news on Thanksgiving. Just make sure to fill up on turkey before you sample other meat dishes.
The same advice applies to vegetarians: even among foods you know to be protein-rich, choose the ones with the most protein per calorie. Non-fat cheese, for example, will give you more protein than tofu or soybeans, which in turn have more than seeds or nuts. Plan your Thanksgiving dishes accordingly.
The Power Of Powder
High-protein powder is often associated with sweet shakes, but it also comes in an unflavored variety. You can easily cook this tasteless powder into a wide variety of dishes, giving you a protein-rich boost with minimal effect on your dining experience. This is particularly valuable when preparing Thanksgiving dishes—a few spoons of powder will make mashed potatoes, stuffing, and other carb-heavy foods far more protein-rich.
Other Options
There is no shortage of creative ways to get more protein on Thanksgiving, including:
Instead of buttering your bread, go for a protein-rich spread like hummus, avocado, or soft cheese

Rather than making brownies with flour, make them

with black beans

If you crave salty snacks, opt for jerky, hummus, and cheese rather than pretzels and chips

Don't put sour cream on your baked potato; plain yogurt will add the same flavor with far more protein

Mix some protein into your pumpkin pie using a recipe like

this one

for a delicious and nutritious dessert.
As with any health endeavor, creativity is key. The more inventive you are with your diet, the easier it is to reach your goal.
Located in Jacksonville, Florida, Jax Nutrition offers a large selection of supplements such as
TriPharm CHEAT
and
Intek Detox Evolution
that can help you indulge over the holidays without the added guilt. We also offer meal plans and nutritional advice to help you stick to your fitness and wellness goals. For more information on living a healthier, more wholesome lifestyle,
visit our website
today.