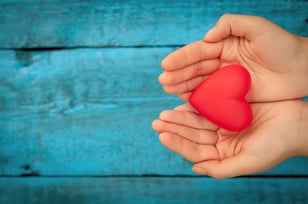 Valentine's Day is all about showing your love for the people you care about most. Nothing shows your love more clearly than focusing on your favorite people's health! Whether you're spending it with your spouse of 20+ years or your best friend, an eye toward good nutrition and fitness tells your loved one that you hope they will be around to share your life for many years to come.
This Valentine's Day, gift your loved ones with healthy alternatives to the standard box of chocolates everyone expects. Your creativity and thoughtfulness will be remembered far beyond the time in which confections would have melted and flowers withered. Consider these ideas for this year's celebration of love!
Pamper Your Loved One the Healthy Way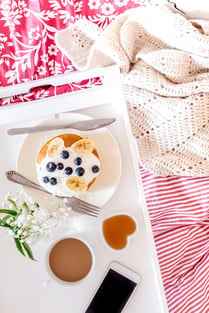 Very little feels as luxurious as breakfast in bed. Why not amp it up with extra protein to start the day out right? Bring the one you love a stack of pancakes made with Stack'd Protein Pancakes for an incomparable breakfast treat! You can dress your pancakes up with healthy fruits and yogurts to complete the delicious (and nutritious) meal.
For snack lovers, or for a relaxing afternoon binge watching your favorite romantic movies, bring along an assortment of Quest Protein Chips to satisfy those munchies. They're also great for picnic snacks. Or affix the bags to floral sticks to make a creative bouquet.
If your loved one has busy days where they just can't stop for lunch, meal replacement shakes or bars can be a real treat. Consider getting them one of our blender bottles (now superhero-themed) to transport their morning breakfast shake, or a basket of Quest Bars in a variety of flavors as a thoughtful gift. They'll think of you every time they pull one out when they're hungry on the go!
Make it Unforgettable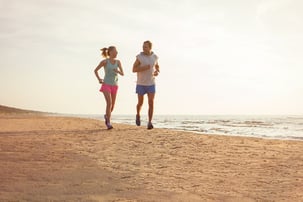 Anyone can plan dinner and a movie, but it takes serious creativity to plan an enjoyable and healthy date for your special someone. Though it may sound cliché, a long walk on the beach is both intimate and healthier than sitting on your butt for the entirety of your date; up the ante and make it a jog on the beach for a really trimming tryst. If your loved one is a real fitness enthusiast, blend up your favorite protein shakes and take a group fitness class or book a private session with a personal trainer. Think outside the box! From AcroYoga to swing dance lessons to rock climbing, Jacksonville has as many fun and fit date options as it does square mileage.
Don't Desert a Delicious Dessert
Are you hoping to make the one you love a homemade treat to show your affection? Cookies and candies often lack in the nutritional department, however, these cookie dough balls are both healthy and delicious! They're packed with protein and lower in calories than most typical Valentine's Day treats.
Chocolate Chip Cookie Dough Intek Protein Balls Recipe
Yield: 18 balls
The Skinny
Per ball:
120 cal
8.5 g fat (1 g sat)
8 g carbs
24 mg sodium
2 g fiber
5 g sugar
5 g protein
Prep time: 10 minutes
Ingredients
2 scoops Vanilla Intek Protein Powder
1 cup almond meal
1/2 cup almond butter
1/4 cup maple syrup
1/4 cup dairy-free mini chocolate chips
Preparation
Place protein powder and almond meal in a medium-size bowl and mix. Then, add nut butter and maple syrup and mix again. At this point, the batter should be just like cookie dough.
Finally, add in the chocolate chips and mix one last time. Using a 1 tablespoon scoop or spoon, scoop dough out and and roll into balls. Repeat.
A Terrific Gift Any Time of Year
Give the one you love the gift of excellent nutrition this Valentine's Day or all year round! Jax Nutrition's personalized meal plan program will remind your loved one of how much you care every month; or, if you're in search of a fast, convenient token of your regard, a gift certificate for Jax Nutrition is also a great way to get someone started on the path toward optimal wellness. Contact Jax Nutrition today or visit one of our stores for more info and ideas to gift the ones you love with better health this Valentine's Day.